With three very busy young boys, I was a bit apprehensive when the time came to listen to our new audio adventure In Freedom's Cause Single Package from Heirloom Audio Productions. We haven't really sat together to listen to audio books or, as in this case, an audio adventure so I was cautiously hopeful that the boys would enjoy the time we spent listening to the story.
When we received the package in the mail, I was excited to get started! The case containing the two cd's was very eye-catching and made us anxious to get started. In addition to the audio adventure on CD, we had access to several different items available online:
Resources Available
In Freedom's Cause Study Guide (Digital Download)
In Freedom's Cause Soundtrack
Printable Copy of the Prayer of William Wallace
We didn't use the study guide too much, but I referenced it occasionally for discussion questions. It is a high-quality, attractive guide and when we listen to this adventure again, I'll definitely use it more than I did this time around. Together, we did read the information it provided about G.A.Henty, William Wallace, and Robert Bruce. You'll find the study guide also contains three sections for further discussion: Listening Well--questions pertaining to the audio adventure; Thinking Further--questions that encourage you to think beyond what you heard; and Defining Words--vocabulary words from the story.
The printable prayer is beautiful and my hope is to have it framed and hung in our classroom as a reminder of this awesome trek for freedom. Additionally, the music download that was available seemed to instantly cause swords and Scottish accents to break out in the house as the boys reenacted their favorite scenes from this story.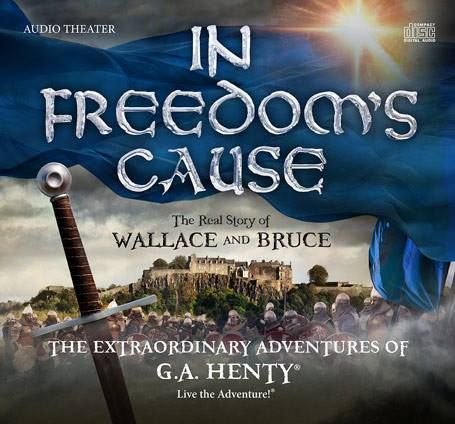 We got started with the adventure on a Monday en route to our homeschool co-op. Monday mornings are always a bit hectic and stressful for us so I thought that if we were all listening to something together, we could limit the early morning bickering. Besides, if any audiobook is going to get my fellas to quiet down and listen, one about men fighting for freedom would definitely fit the bill.
I was blown away! It was incredible to hear! In fact, several times we'd pull into the driveway and we would have to wait for the chapter to end before we could go inside. It was so intriguing and exciting that boys (and I!) just had to know what was happening next! Plus, it absolutely made history come to life! It engaged us and thoroughly educated us about the quest for Scotland's freedom.
Truthfully, I was a bit apprehensive about listening to an audio adventure, especially one that was over 2 hours long. Would the boys really get into just listening without seeing? Let's be honest here, my boys aren't the best at listening. I have completely changed my mind! They were still, they were quiet, they were asking for a few more minutes. Plus, we did visit the website to find a captivating video that discussed the making of the audio adventure. They stood on a bridge in which a monumental battle was fought and when we heard that part of the story, my middle son immediately recognized the location they were describing! They even showed us how a few of the incredibly authentic sound effects were made.
If you are interested in following In Freedom's Cause on social media, check out the links below:
Facebook: https://www.facebook.com/InFreedomsCause
Twitter: https://twitter.com/InFreedomsCause
Google+: https://plus.google.com/u/0/112701427096792421838/posts
Pinterest: http://www.pinterest.com/jointhecause
I likely wouldn't have purchased In Freedom's Cause because I wouldn't have ever guessed that my boys would enjoy it so much. I have certainly since changed my mind. In fact, I cannot wait until Heirloom Audio's new audio adventure, With Lee in Virginia, is released later this year. I will definitely buy it for our homeschool! If you haven't listened to an audio adventure before, I encourage you to try it! It is not like listening to someone tell you a story in a low, boring voice and there's no way you're gonna fall asleep with the sound of swords clanging together over the drawl of Scottish accents!


Follow With Lee in Virginia on social media to stay informed of it's upcoming release!