After getting the munchkins to bed one night, I put in my next Review Crew product, the DVD IndoctriNation by Great Commission Films. I settled down on the couch to watch all 102 minutes of the education documentary. (Mom Note: this is probably not viewing material for young children due to the content it discusses occasionally. My sons did not watch it.)

There is a lot of information conveyed as to why public schools are NOT the best educational choice for children. Clearly, I'm aware of that as my sons have never attended a day of school outside of our home. In the documentary, we follow Colin Gunn, a homeschooling father of seven, as he travels to various locations to discuss the decline of public education. We hear several reasons as to why public school isn't the best place for our children, and I readily agree with most of them.
I want my children to receive their education on sex from us--their parents. I want to be sure that my sons aren't offered drugs on the playground, to not encounter violence or weapons on the bus, and stay far away from bullies. I want to ensure that their education is tailored specifically to each of their individual needs, allowing them to excel or to review as necessary. These are all points with which I've found common ground.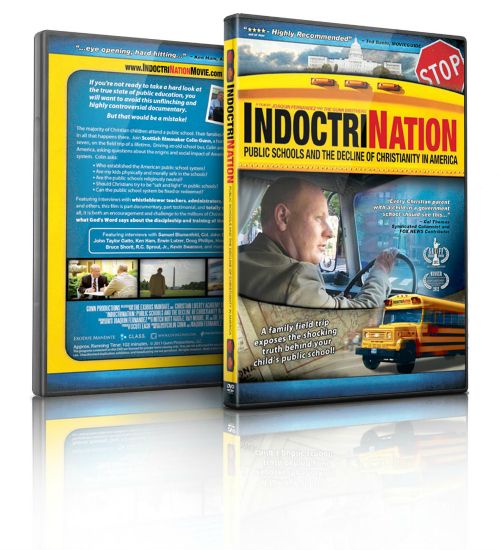 However, the focal point of this documentary was the effect of Christian families sending their children to public school to the detriment of their faith. I'll be the first to tell you that I have never agreed with children being the "salt and light" in public schools. Truthfully, I find that sentiment ridiculous and the task nearly impossible considering the environment. To say that is a reason to send your children to a public school is one in which you and I will not find common ground. The documentary and I certainly agree on that front.
A statistic I heard near the beginning of the documentary that stated by the time Christian students graduate from high school, 88% will leave their faith behind. A quote that stood out to me was "We don't lose them [our children], we give them away." Ain't that the truth!
So, there are the ways in which I'm in agreement with IndoctriNation. There are a few things mentioned that were a bit concerning to me, but I wasn't surprised. In several instances, there were negative references to homosexuals. I don't recall any other groups of people that were as blatantly disliked, aside from parents who send their children to public school. I heard how people couldn't fathom their children being near homosexuals, atheists, or extreme environmentalists.
My issue is that, as a family, we feel we are called (though not exclusively) to one very important job--to love others. It's hard for me to hear so many negative comments directed toward groups of people. This doesn't mean that I'm sending my sons to school to love others, once again the salt & light argument. It just means that I'm not homeschooling to keep my sons from being friends with the boy down the road who has hippie, tree-hugging parents, or to protect them from the gay people. I do homeschool them because we've decided that it's the best way to educate our children.
I did find the documentary incredibly intriguing and many of the statistics startling and sobering. I absolutely want for my husband and I to be the people who decide what our sons are learning, when they are learning, and how. I want for them to be safe and happy. I want for them to be able to sing "Jesus Loves Me" or spend time as a family reading our devotions in the afternoon. I want to be sure they aren't encountering material that conflicts with our beliefs.
Some people call it sheltering. I just call it parenting.
If you are a homeschooling parent, regardless of whether or not it is for religious reasons, you should check out the documentary. It's worth hearing that homeschooling parents are pretty awesome. If you are interested in following updates regarding the show, check out the social media links below.
Follow IndoctriNation on:
Facebook -- https://www.facebook.com/IndoctriNationMovie
Twitter -- https://twitter.com/indocmovie
Vimeo -- http://vimeo.com/indoctrination
YouTube -- https://www.youtube.com/user/IndoctriNationMovie