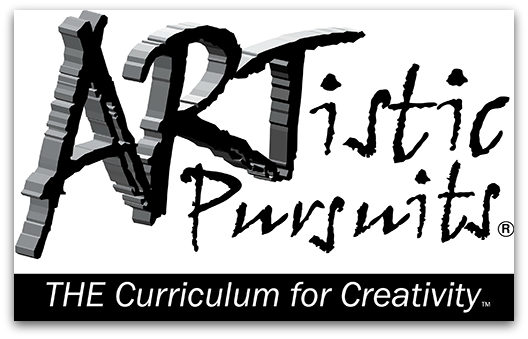 I have never been more interested in an art curriculum as I have ARTistic Pursuits. I was elated to be selected to receive Early Elementary K-3, Book 1: Introduction to the Visual Arts from ARTistic Pursuits to review as a Schoolhouse Review Crew member.
As expected, I was not disappointed! The book is beautiful and laid out so well. The first thing I needed to do was round up the necessary supplies. Some items we had on hand, like watercolor paper, drawing paper, and scissors. The rest of the items, like watercolor crayons, oil and chalk pastels, and ebony pencils had to be purchased. You can go directly to the ARTistic Pursuits websites and buy a supply kit that corresponds with each book, to save some time. Since we had a few things already, I just pieced together the rest.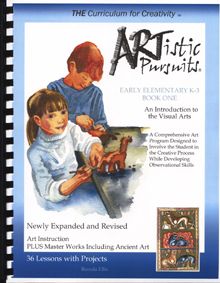 When we get started on our art lesson for the day, the first thing we read is about what artists do. This is the beginning part of each lesson and introduces the kids to new art concepts. Then, we discuss the type of art we just read and how we see art in our lives. There are pictures of artwork with questions to ask to help the children look closely to understand the concepts presented. Then, it's finally time for everyone's favorite part of the lesson -- it's time to make our own art! We were incredibly excited to use watercolor crayons for the first time so it was neat that they were used in the first lesson.
Because the lessons and artwork were so engaging, I also participated along with the boys. Typically, the youngest fella would skip the listening and discussing part and only join us for the art activity, but that's to be expected from him, I suppose.
When it was time to start our own creation, it seemed as though my boys sometimes skipped over what the directive was and really wanted to do their own thing. With the older two, however, I tried to remind them of what we were discussing and how that should be portrayed in the art they were making. Once reminded of the lesson we just discussed, it seemed as though the could focus on creating something that was representative of what we had read.
As a homeschool mom, I loved everything about this book. The reading material was interesting and easy to understand. The questions I read to them helped them stop and really look at the piece of art. When it was time to create, they were so excited to try something new. My boys loved this book as well. Each time I gathered supplies and started setting up the table, the boys came running, ready to get started.
I've been so interested in ARTistic Pursuits for awhile and I'm not sure why I never took the plunge before this review to try it out. Perhaps it's because I'm always apprehensive when it's time to teach art to the boys. With this book, however, I felt like I could read and discuss the lessons with relative ease because of the layout. It's incredibly user friendly, engaging, and interesting.
We will continue through the rest of this book and we look forward to purchasing the second book, as well. ARTistic Pursuits will have a place in our school plans for awhile.
Follow ARTistic Pursuits on Facebook:
ARTistic Pursuits
.