I love opportunities to spend some quiet time with my youngest guy, especially when they have an educational purpose. When the opportunity to review the
First Start Reading
set from
Memoria Press
was announced, I was definitely hoping I'd have the chance to included. I was thrilled when my name appeared on the list.
Truth be told, I was not at all familiar with Memoria Press prior to this review. Our style of homeschooling is a bit different than the type of books found at Memoria Press. Prior to the arrival of the books, I spent some time looking over the products online. I very quickly realized that there was so much more available than I knew! This definitely piqued my interest and when the books were delivered, I was thrilled!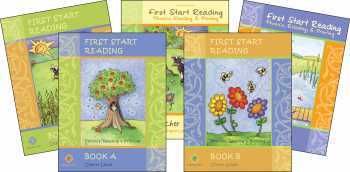 Jaxon had recently started asking to learn to read so this first reading set was incredibly timely! As soon as I told him the books were for him, he was ready to get to work. He turned 5 a few months ago, so he's become more and more interested in having schoolwork similar to his brothers. Unfortunately, his zest for learning waxes and wanes sometimes.

When the books arrived, the first thing I noticed was the quality. These books are very high-quality. The set comes with one teacher manual and four books for the child. The teacher manual covers all four student books in the set. I love when a teacher's manual is a laid out with student page example, which is how this manual was designed. Additionally, the manual has the "script" I can use to go over the material with my little guy. This aspect is useful because it reminds me to say things I would probably forget. This set from Memoria Press teaches consonants, vowels (short and long), common words, and printing.
We start with the letter shown at the top of the page and discuss the sound it makes. We review by saying words that begin and end with the letter sound for the day. Jaxon thinks this activity is funny so he enjoys when I read through a list of words and he has to tell me yes or no as to whether or not the beginning sound or end sound are correct. After the discussion, we move on to the writing. Let me tell you -- it's been great to work on writing and reading as one cohesive unit. It seems like such a simple idea but not one that I've utilized in the past. It's working so well for him, too! After the writing, we move on to coloring. Truth be told, not always one of his favorite parts, but he really enjoys the following activity -- drawing. He take this opportunity to draw a picture representing the sound/letter we've been discussing.
Jaxon's favorite time to work was during homeschool co-op while his brothers had class..
As previously mentioned, it's been a little difficult to get him to work consistently because we're also dealing with some behavior issues. However, he absolutely enjoys this set of books. He's not the only one. I'm a new fan of Memoria Press. As I get started on planning next year's school schedule and making curriculum choices, I'll definitely keep Memoria Press on my list of resources.
If you are interested in following Memoria Press on social media, you can find their links below: