Math is not a favorite subject around here. I figured that an Adaptive Placement Test and Individualized Lesson Plan from A+ Interactive Math would be helpful in determining where my sons stand. Thankfully, I was given the chance at this review opportunity. The placement testing is done online so a computer and internet connection is necessary. We have those so we were good to go.

Adisson has struggled with Math nearly as long as I can remember. He's a bright kid who learned to read effortlessly but has never quite grasped math facts. For many years, I was convinced that one or both of us just wasn't trying hard enough. Then, I realized that he just doesn't see the numbers in the same way I do. He doesn't quite get the way it's all supposed to work. Everyday, he has to remind himself the order in which calculations are to be made.
My hope for the placement test was to see if we were making any progress. We've tried several different approaches to math, honestly, I'd be hard-pressed to tell you how many. This year, however, it seems as though we've finally found the best way for him. I wanted to see if he's been progressing.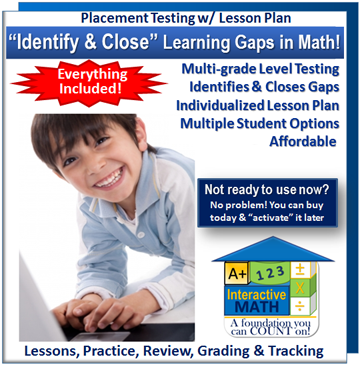 When I explained to him what we were going to do, he instantly shut off, tuned me out, his eyes glazed over. Math is a touchy subject for us anyway and to include the word test just ramped up his anxiety. So, I told him this was just for him and I, that getting an answer incorrect was ok because it was showing us what areas still needed a little more work. I reminded him that no one else would see his results. He seemed to be ok with all of that so we proceeded.
When I started at the A+ Interactive Math homepage, I clicked on the Homeschool Online Log In button. From there, I signed in with my log in information. Then, I needed to "enroll" my students. This just meant that I needed to set up student accounts for my boys. I set-up their accounts with their own username and password information.
On the parent side, my options are Review Adaptive Placement Test, View Student Reports, View Student Lesson Plan and How To Get Started? (Video Tutorials). Ok, so I am a rebel and it seemed easy enough to get started so I skipped the tutorial (Thank you, A+ Interactive Math, for your user friendly interface that gave me the confidence to skip the tutorial!) I did some clicking around review test and student reports, but there's not much to review until your student has actually taken a test.
Enter test subject, my sixth grader. In the interest of full disclosure, he tested at a grade level below his current one. I gave him his log in information that I had previously set up and he was directed to the student side. Once there, his options were the same. He could select Take Adaptive Placement Test, View My Reports, View My Lesson Plan, and How to Get Started? (Video Tutorials). We were ready to get started on the testing, so he selected Take Adaptive Placement Test.
Lo and behold, he did not leave the computer in tears. The test is broken down into sections by concept (multiplication, division, fractions, etc.) so he would be taking one small test at a time. The test is timed. Each section has a time limit and each question has a time limit. There is a countdown clock in the upper corner. Despite hating timed events, and even on the problems where he needed his scratch paper, he solved each question in the allotted time. Additionally, each test was only a dozen questions or less. He was thrilled that the tests were relatively quick.
After he finished a few tests, I logged in to the parent side of things to see how well he did. I was happy to see that despite a few incorrect answers on each test, he was still passing them and placing at grade level for each concept. The biggest thing I learned from this testing is that it's working. What is "it"? We are going slow and steady. We aren't progressing quickly, we aren't working on grade level, we aren't racing through, we aren't demanding success. We are approaching math in a slow and steady way. And it's working.
A+ Interactive Math has some incredible freebies being offered that you don't want to miss. They are listed below:
Free Math Placement Test
Free Family Math Packages
Free Software Download
Free Single Grade Level
Free eBook
A few additional resources to check out:
Top 12 Reasons to use "Adaptive Placement Test & Lessons"
Top 12 Reason to use "Family Math Package"
Additionally, there is currently a HUGE SALE on the Family Math Package and Adaptive Placement Test. Check out the details HERE!
Don't forget to find A+ Interactive Math
on your favorite social media sites:
Facebook: https://www.facebook.com/APlusTutorSoft
Twitter: https://twitter.com/aplustutorsoft
Pinterest: http://www.pinterest.com/aplustutorsoft