If you have ever visited my blog before, there's a good chance that you have read a reference to Scouting and how I like to incorporate Scout requirements into our school day. I was thrilled to have been selected to review Revolutionary Ideas: The Story of the American Revolution from Homeschool Legacy.
Homeschool Legacy is a really neat company that offers once-a-week unit studies. I've always loved the idea of unit studies. For me, it makes a lot of sense to center our lessons around one theme/idea. The unique spin of Homeschool Legacy's unit studies are they meet Boy Scout merit badge requirements. That means we can spend some time working on a unit study and at the same time my Boy Scout can work on a merit badge!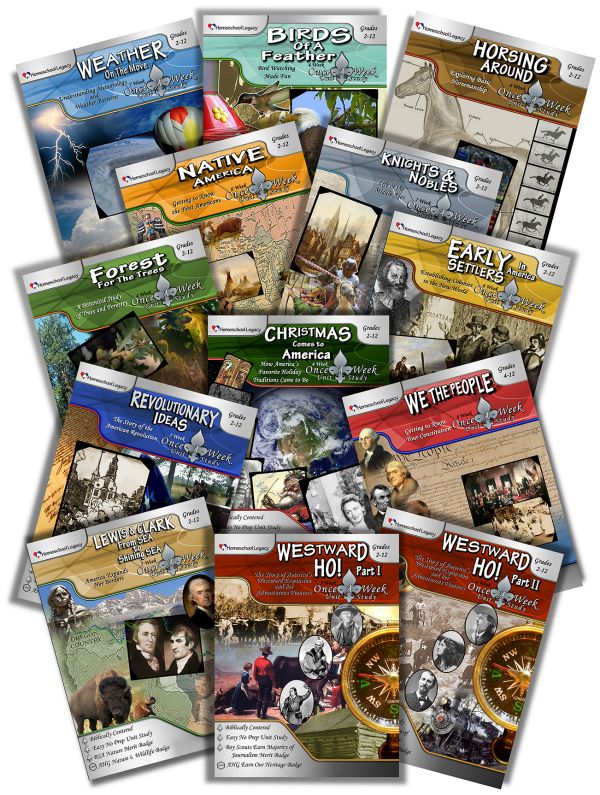 Our unit study book arrived and we were ready to get started. We received a nice quality, softcover book. However, the products are also available via digital download, as well. Right away, there's a list of what requirements are going to be completed by finishing this unit study. Not all requirements for the merit badge will be covered, there will still be some work that needs completed outside of this unit study. If you have a daughter in American Heritage Girls, you're in luck! These unit studies also meet guidelines for badges in that program as well.
Homeschool Legacy has also included a sample schedule for how to incorporate Once-a-Week Unit Studies into your school plans. Basically, you continue with your regularly scheduled day for most days, adding in any reading that you need to complete for the unit study. One day each week, you incorporate unit study activities and plans.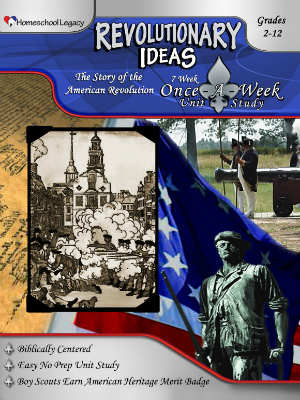 Let's skip to the back of the book for a second. In the back, on the last few pages, there are various tips and tricks to get the most out of this unit study. There may be writing assignment suggestions, ideas for lapbooking, additional research options, as well as reading/video choices. Why are these resources included in the back? Sharon Gibson, the author of the study, explains that at homeschool conferences, parents don't always have the time to really look at every book in which they are interested. Sharon wanted to get right to lesson part of the unit study so parents could quickly see an example of what this way of learning would be like for them.
Ok, so we've gone over all of the resources of the book, now it's time to get started on what the lessons contain. The lessons contain a lot! Science, history, devotionals, vocabulary, art, reading suggestions, movie/video suggestions, field trip ideas, and our favorite part -- Stump Your Dad Trivia. Each of the lessons that complete a Scouting requirement have a fleur-de-lis beside them. I like this indication because I know for sure that I need to complete those activities in order for Adisson to complete the requirement for the merit badge.
Our unit study was about the American Revolution. This was especially fitting because Zander spent the year in co-op learning about the American Revolution by way of watching Liberty's Kids so he was excited that he knew some of the answers already. We created a history timeline, which the boys enjoyed, and we talked about Zander's favorite event -- The Boston Tea Party. We discussed so many other events of the time, but that was our favorite. Z's been in a Boston Tea Party frame of mind for several months.
We kept all of our assignments together in a notebook so when we finish the unit study, Adisson's work will be ready to show to his merit badge counselor for approval. If you are familiar with unit studies, if you aren't but perhaps you are interested, you should check out Homeschool Legacy. You don't have to have a child in Scouting to gain a lot from the books. These unit studies are incredible regardless. However, if you happen to be a homeschooling family that is up to their eyeballs in Scouting, these are amazing!
Find Homeschool Legacy on your favorite social media sites: