We love field trips. We try to take them a few times each month! I was incredibly excited to hear about the brand new Exploring Creation Field Trip Journal from Apologia Educational Ministries. I couldn't wait to review it!
We've used Apologia products before and they have always been of very high quality. I was not surprised when the journal arrived to find that it also was very nice and put together very well. The spiral bound notebook-style book has full-color pages. They are set-up similar to a scrapbook page and make it very easy to record several different facets of trips, some of which you may not have thought of remembering.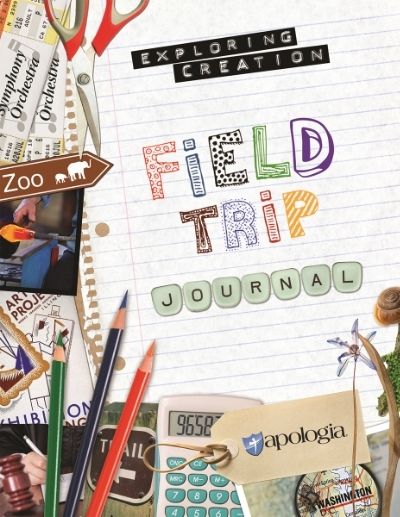 The first few pages are dedicated to preparing for a field trip. There is information for teachers and a separate paragraph for the student for The Week Before, The Night Before, On the Way, and At the "Field." The tips included are really helpful because sometimes it's easy to forget that we're supposed to be using the field trip as an educational tool. This section helped inspire us to really think about where we were and what we were doing.
The pages that follow up are dozens of field trip ideas. Ideas that you may not have considered as field trips for your homeschool but once you see them, it's like...Ohhhh, yeah, let's try there! Some of the more unique ideas of field trip locations are to see a personal trainer, witness an autopsy, the sewer system, or a furniture store.
Prior to the section dedicated to field trips is a neat page that has a How-To on using the field trip portion of the journal. It reminds students to take notes, establish an emergency meeting spot, draw something that captures their attention, and to record something you never want to forget about the day.
Next up is a section called "My Special Spot." The pages that follow include places to record your favorite things about a place you find special in the fall, the winter, the spring, and the summer. If you ask my sons, their special spot will be the beach in each season. I often wonder if I'll have beach bum sons once they are older. I'd be thrilled with that because then I'd always have a place to go when I felt called to be at the coast. Anyway, the How-To for the special spot tells the student that they are to select a special place in nature that isn't maintained by mankind. Each season, they should go there and explore the area, noting changes.
Finally, we reach the portion of the journal labeled "As I See It." This is just a section meant for thoughts, drawings, and reflection. Sometimes, there's a prompt to encourage writing, other times the pages are blank. It's a really thought-provoking section because it inspires you to really record something worth preserving.
This is an incredible field trip journal. It is my FAVORITE Apologia product and I'll recommend it to everyone. I was truly impressed with the quality and the beauty of the book. This will be something that we use and save for years to come. If you're reading this as you are making decisions on what to purchase for the upcoming school year, purchase this journal. Plan your field trips, make yourself be purposeful in creating everlasting memories with your kids. Seriously, I'm calling this one a must-have! :)
BUT WAIT...THERE'S MORE!
If you are familiar with Apologia books at all, you know there's a "secret" online section filled with book extras. Even though this is a journal, it still has some extra goodies available online. There are so many ideas for field trips that I couldn't even begin to list them here....and I won't because they are reserved for those who snag this incredible resource.
Don't forget to follow Apologia on social media:
Facebook: https://www.facebook.com/apologiaworld/timeline
Twitter: https://twitter.com/apologiaworld
Pinterest: https://www.pinterest.com/apologia/
Google +: https://www.pinterest.com/apologia/