We love board games. It's one of our favorite family activities. We were selected to review the board game Expanders from the company SimplyFun and I was thrilled to get started.

Our Expanders game arrived and we couldn't wait for family fun night. The box is colorful, sturdy, and very nice. The quality is excellent and is on par with what I expect from a family board game. When we try out a new game, my expectations are that it's made well enough to withstand children. My boys are taught to take good care of our board games, but they are still boys, still children, and incredibly competitive. The competition comes into play because a few of us have been known to get a little bit rougher with pieces when the intensity increases.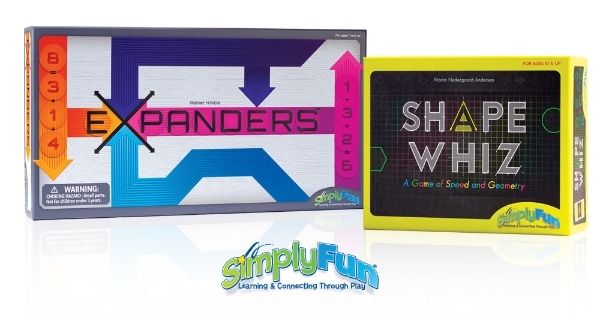 Back to Expanders. You should know that I have a son that doesn't enjoy math, like at all, and two sons who walk around doing math throughout the day, just for fun. I was hoping that this game would be fun enough for my math-hater so he wouldn't complain and fun enough for my math-lovers, who declared it an instant hit. It's always a challenge for me to find games that are both educational and fun. What I find as a great learning tool sometimes falls flat in the fun department.
The point of the game Expanders is to use all of your colored tokens by matching numbers or expanding your colored token territory by adding numbers together. The game is meant for 2-4 players, with modifications explained for 2 person gameplay, 3 person gameplay and so on. Since you set up the mainframe each time you play, the board is always changing and you aren't playing the same game over and over again. With the highest number being 12, that game doesn't get so difficult that my 3rd grader can't participate.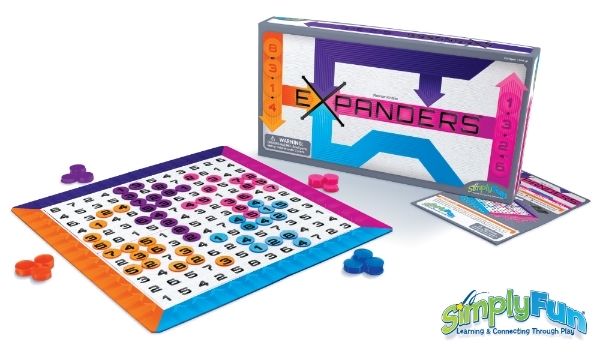 This game was more fun than I was expecting. When I read the premise behind Expanders, I wasn't sure if the boys would find it that interesting. I was completely wrong. They love the game, even my math-hater. They love trying to find ways to connect their numbers, trying to edge each other out of space, and how to expand on their areas. At the beginning of the game, they are helpful to one another and encourage each other to find new ways to expand. As the game progresses, however, the competition gets fierce. They have such a great time, though. In fact, Zander said that this game was "so awesome" and that he couldn't wait to play again. They didn't wait to play again; they started up another game right away.
I also hadn't heard of SimplyFun before this review. I checked out their website for other games and was thrilled to see that they are actually a direct sales company! Awesome!! There are so many games I would love to try. Plus, the website has so many videos that you can view each game before deciding to give it a try.
Don't forget to follow SimplyFun on your favorite social media platform:
Facebook: https://www.facebook.com/simplyfun
Twitter: https://twitter.com/simplyfun
Instagram: https://instagram.com/simplyfun/
Pinterest: https://www.pinterest.com/simplyfun/