Kindergarten is an exciting time here and we are about to get started on round #3 in our homeschool. Looking for new ways to add some fun to our Kindergarten routine, I was excited to have the opportunity to review Horizons Kindergarten Health Set from Alpha Omega Publications.
My youngest son has 2 big brothers that he's always trying to mimic. He asks repeatedly for more "school stuff" and to have work that looks like his brothers'. When the workbook set arrived, he was very excited to have his own set of brand new books. We received really nice, high quality workbooks; a student edition and a teacher edition.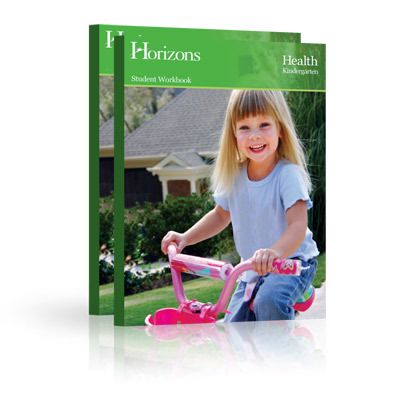 We've used some Alpha Omega products before so I was already expecting great quality and naturally, I wasn't disappointed. The teacher's edition is scripted with dialogue that is useful for teaching and explaining each lesson. The student edition has perforated pages with dark, bold lines and text that make it easy for the student to follow along.
Jaxon was thrilled to get started on the workbook. We chose a time where he and I could work quietly together so he could have my undivided attention. He opened his textbook to the page on which we were currently working as I had my teacher book open to the corresponding lesson. We would get started by reviewing what we had previously discussed and done and then get started on the new lesson.
The worksheets included coloring in pictures, tracing letters, and Jaxon's ultimate favorite school activity -- cutting. We discussed topics like the five senses, dental care, germs, medications, food sources, choosing good foods, safety, manners, and feelings. One of his favorite activities was constructing a train of healthy foods on the train cars. Cutting, gluing, AND trains? It was a total win for my littlest fella.
I enjoyed using this set because often times health units aren't a big priority in our homeschool. Sure, it's very important to be healthy and discuss all of the topics included in this set, but often times, those subjects get less attention than others, like math and reading. It was really great to be purposeful in taking the time to go over a health unit. It helped Jax and I have time to discuss topics together, it gave me the opportunity to teach the importance of taking care of oneself to my youngest, and most importantly, it gave Jaxon a good understanding of why his health is essential...and what he can do to take care of himself, even as young as five years old.
If you are looking for a good health unit to round out your homeschool lesson plans this year, I would definitely recommend the Kindergarten Health Set from Alpha Omega. In fact, in perusing the included scope and sequence of Health for other grades, it looks like something we will be purchasing for our older children as well.
Don't forget to follow Alpha Omega Publishing on your favorite social media networks:
Facebook: https://www.facebook.com/aophomeschooling
Google +: https://plus.google.com/+Aophomeschooling/posts
Twitter: https://twitter.com/homeschoolers/
Pinterest: https://www.pinterest.com/aophomeschool/
Instagram: https://instagram.com/aophomeschooling/