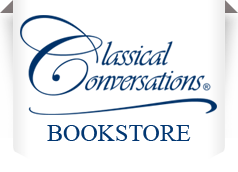 As soon as people hear that we are a homeschooling family, one of the first questions I hear is if we plan on sending the kids to high school. I got the chance to review the book, The Conversation from Classical Conversations. The point of this book, the third book author Leigh A. Bortins has written on classical, home-education, was to encourage parents to continue home educating through high school.
I was initially a bit apprehensive once selected to review the book, because as a homeschooling family, we have not been proponents of a classical education model. I was uncertain if there would be information relevant to our homeschooling style. Additionally, my oldest son is beginning the seventh grade so, while high school is rapidly approaching, we are not quite there, yet. My concerns were alleviated once I got started reading, however.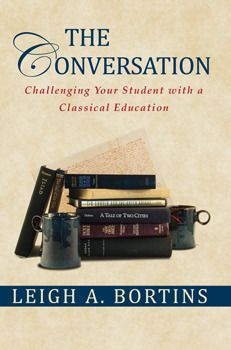 The first part of The Conversation is like having someone beside you, encouraging you on your parenting journey, as well as your home education journey. Ms. Bortins tells parents that we can, in fact, prepare our children for adulthood even if we don't have all of the answers all of the time. We can parent, we can home educate, regardless of our fields of expertise. The second part of the book is more about the Classical education approach to high school.
Per the Classical Conversations type of homeschooling, by the time students are in their teenage years, they have entered the third stage of home education: rhetoric. Since The Conversation is a book about homeschooling in high school, it is written about the rhetoric stage in three different parts: High School at Home, The Rhetorical Acts, and Appendices. Again, this information was very new to me as it's not something I have looked into as I've researched homeschooling methods.
Classical Conversations defines this rhetoric stage as an appreciation of the good and beautiful, the development of virtuous character, and an ability to speak eloquently and persuasively. The Conversation delves further into what that means as you homeschool your high school student and how imperative it is to remain focused on the importance of home instruction for your teenagers.
Regardless of the fact that I don't utilize this method in our homeschool, Leigh A. Bortins is definitely a cheerleader for home education. As a family that has decided over the last few years that we plan on staying the course for home education through high school, it is definitely encouraging to hear someone state their case so passionately.
So even though we aren't educating the classical way, honestly, even if we weren't home educating at all, there are still a lot of good talking points I'm able to gather from this great book. As the school year begins, this is a great read if there are middle school and high school students in your homeschool, especially if, like me, you could always use someone telling you that you are doing what's best for your children.
Don't forget to follow Classical Conversations on your favorite social media platforms:
Facebook: https://www.facebook.com/classicalconversations
Twitter: https://twitter.com/classicalconv
Pinterest: https://www.pinterest.com/classicalconv/
Google +: https://plus.google.com/117616164250444350670/posts
YouTube: https://www.youtube.com/user/ClassicalConv