It's been awhile since I've reviewed a product for the Schoolhouse Review Crew and this will be my last review for the Crew. It seems fitting that this review of the movie Do You Believe? sent to me from FishFlix.com would round out my time on the Crew.


I received a DVD of the movie Do You Believe? for this review. I watched it with the boys, though the younger ones wandered in and out of the room quite a bit while it was on. I was ready for it to be a tearjerker as I'm a big crier when it comes to movies. Spoiler alert, this one did not disappoint in that aspect.
This movie is a story of a dozen people on various walks of life, each with their own belief in God. Each character is briefly introduced right away, their struggles made apparent, their faith, or lack thereof, immediately evident. Some people are steadfast believers, others beaten down by life and weary by the struggle. Believing doesn't come easy for people are broken and tired. Of course, believing doesn't come easy at all sometimes.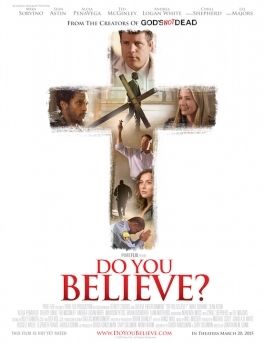 A homeless mother and daughter, a couple grieving the loss of their only daughter, a veteran, a firefighter torn between his faith and his job, a doctor who doesn't feel appreciated for saving lives, a pastor and his wife, a criminal -- those are just some of the people featured in the movie. Lives that are difficult, messy, empty, desperate, and in need.
Throughout the movie you see how paths cross, how the unbelieving find a believer to guide them, how those who are hurting find a way to turn to God in their pain and grief. Honestly, this movie preaches about how amazing the love of God is and how Jesus is always there for you when you believe. Despite the chaotic ending, everything is wrapped up all tidy and neat, which is a stark contrast to real life. But that's ok. Because who wants to watch a movie where things are left unfinished and undone?
Truth be told, my head and my heart have been in a rather conflicted state over the past several weeks. Well, honestly, for quite some time. I struggle quite a bit with understanding my purpose and my offering to this life. What will others say about me when my time on this earth has come to an end? What will I have to show to God for the time he gave me on this planet?
I'm a believer. I've been a believer for nearly all of my life. It's easy for me to believe. The Bible verse (James 2: 17) at the beginning of Do You Believe? was this "Faith by itself, if it is not accompanied by action, is dead." What actions am I taking to show I believe? What am I doing for others?
Maybe this movie isn't a Hollywood blockbuster and it didn't go on to win big time awards, but maybe it's reminded people of what they need to hear. Sometimes, even believers need to be asked if they believe and to be reminded of why the answer is yes.
Follow FishFlix on your favorite social media networks:
Facebook: https://www.facebook.com/fishflix
Twitter: https://twitter.com/christiandvd
Pinterest: https://www.pinterest.com/fishflix/
Google+: https://plus.google.com/+Fishflix/posts
YouTube: https://www.youtube.com/user/familychristianmovie